Introducing Savannah Denny, independent Interior Design Consultant for Own-A-Home
Woohoo!  You've decided to build your own home.  Perhaps one of the most exciting moments of your life.
Finance is approved and planning is in full swing.  You've got a block, an ideal floorplan, a vision.  It's likely you've been simultaneously liking, pinning and sharing plans, rooms, and styles online.
So, it's all coming together, isn't it?
When you build a new home one of the greatest aspects can also be one of the most overwhelming.  Decisions – all yours, and lots of them.
But, as your builder we want you to build a new home. That's why we've made it our mission to make sure you never feel overcome by overwhelm.
Tracking your build online gets us a fair bit of the way there because knowing when you need to make decisions and locking them in is so simple.  On top of that, we've got an amazing team of sub-contractors and suppliers (draftsman, roofer, joiners, painters, tilers, carpet layers) who care as much about helping you stay inspired and excited as we do.
Still, we've felt for a long time like something was missing. We wanted more 'design flair' in what we offered to you.
And now, we've found it (well, her!)…
Introducing Savannah Denny…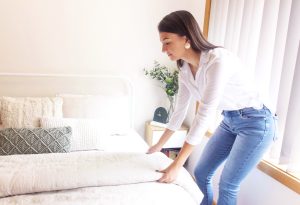 Savannah is a savvy, professional interior designer who has just graced the North West Coast of Tassie with her presence (find out all about Savannah here)
As soon as we met Savannah we knew she was 'the one'.
Working with Savannah will save
you

$.

What you need to know straight up is Savannah isn't an employee of ours.  Savannah is her own 'boss-lady' (Savannah's term!) so she's not here to up-sell or increase our profit margins.

In fact, Savannah is here to increase your profit margins.

How?  When you build a home, you're building it to stand the test of time.  Not just structurally but in the way it looks, feels and fits your lifestyle.  An amazingly designed home will reflect your style and personality but won't date, saving you serious dollars in upgrades and more profit if you do need to sell.

What's more, as any great interior designer does, Savannah will respect your budget and save you money along the way – sourcing fixtures and finishes that deliver the best 'bang for your buck'.

Take your kitchen for example.

Not only is your kitchen the 'heart of your home' but it's also the space that holds the most design decisions (and a relatively large chunk of your budget!).

It's easy to pin photos that make your heart sing but a kitchen has to do way more than look good.

Imagine yourself in the space, does it need to withstand toddlers banging the benchtops?  Do you want to create exquisite meals with professional appliances, grand enough to take out the next season of MKR?  Or, will you welcome home a footy team of hungry teenagers covered in mud and vying for the snack cupboard every afternoon?!

Before your alarm bells start ringing, this is where Savannah comes in.
Interior designers offer a well-trained eye.
Spend a couple of hours talking to Savannah (instead of scrolling through thousands of photos and plans) and your dream kitchen starts to take shape.
Savannah will listen to your ideas, lifestyle needs and budget then use her professional prowess to design a space that really works (take it from the horse's mouth, our own Karli Franks – author of this blog – is collaborating with Savannah on a kitchen renovation right now).
With product knowledge to match, you'll also save time trying to compare products.  Knowing what you need, Savannah can narrow your decisions down to a manageable few by recommending the most suitable products and options for your space.
3D plans will give you priceless reassurance.
Have you ever walked into a room and known immediately that you don't like it?  We all have, but it should never be in your brand new home.
Teaming up with an interior designer takes the guesswork out of decision making.
Savannah builds a virtual 3D plan of your kitchen (aka a 3D 'perspective').  Not only does the colour scheme come alive, you can also see important details often left to the imagination; what will the drawer handles look like?  How will a particular pendant light hang over your benchtop?  How will the light from your windows affect the room?
Every detail can be tweaked before a single tile is laid which means no sleepless nights lying awake pining over whether you've made the right decisions (let's face it, card-sized samples are not big enough!).  Invest a little extra and you can practically walk through your kitchen with a 3D render.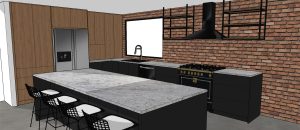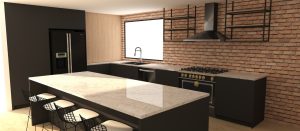 You've got a whole team liaising on your home's design.
It's a team effort to deliver a kitchen that doesn't take up unnecessary dollars in your budget (kitchens and bathrooms can be greedy without smart interventions at times!).  Savannah's specialist design skills complement those within the existing Own-A-Home team.  Darrel, Brennan and your joiner will collaborate on the design of the space too.
So ultimately?  The kitchen you walk isn't the kitchen you've been dreaming of, it's the one you've already created.
Can you put a price on that kind of reassurance?
We don't think so either.
Interior design is now a 'standard inclusion' in our contract with you.
Incorporating interior design services into our standard inclusions for every build is a sure fire way of adding value to your home.  It will save you time and put your mind (and ours) at ease that you'll love the home you walk into (and so will your bank account!).
Soon, we'll be stepping it up another notch with the opening of our own Design Centre – a space where you can meet with us as a team to discuss everything from ceiling heights to bathroom fixtures, even external cladding (don't worry, if you're interstate or working away Savannah has specially tailored e-design services  and we're super comfortable working remotely with clients).
It's all part of our mission to build you a home you'll love because we really believe the best is achieved when 'together we plan it, together we build it'.
Want to stay up to date with future blog releases?  Follow us on Facebook and Instagram. 
To keep up with Savannah Denny Designs check out Instagram and Facebook and Pinterest.  
Blog post written by Karli Franks.